Restoration of car 144
Page 2
Car 144, a 1966 Phaeton is undergoing a complete restoration in 2001
by its owner, Fred Johnson in New Jersey. Below are documented more
parts of his undertaking. We thank him for sharing! Feel free to contact Fred
if you have any questions about his restoration.
SCROLL DOWN - SEVERAL TOPICS ARE ADDRESSED IN THIS RESTORATION
Click here to return to Page 1 of this restoration
Hinge indentations given a nicer finish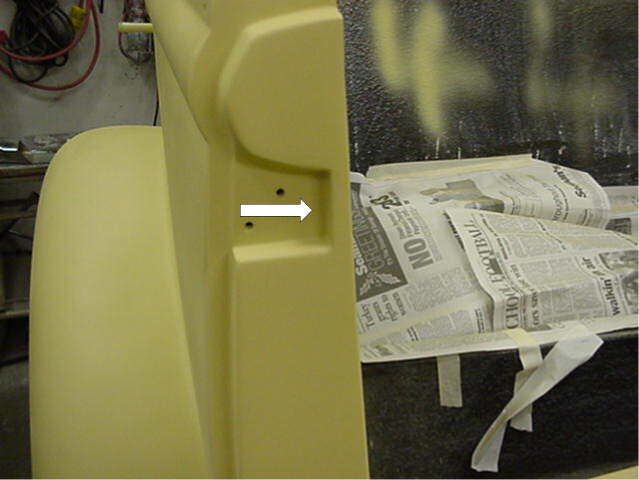 Fred filled in the space behind the striker plate on the door post for a more finished look
and less draft seeping in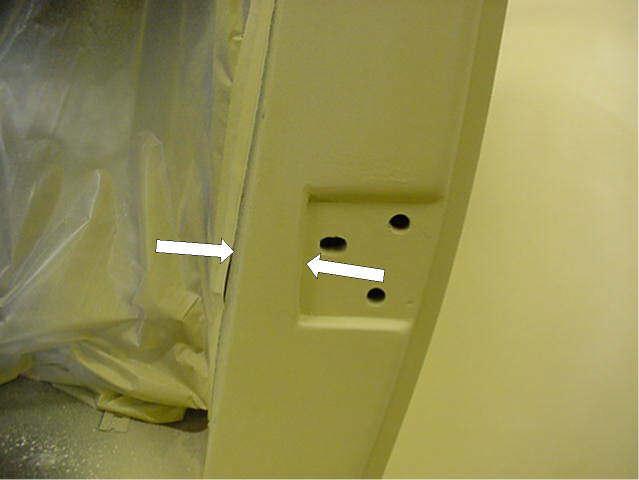 Fred also filled in the space behind the hinges on the front door posts. Lower shown here,
and upper shown in the picture below.

The indented areas for the hinges no longer go all the way through to the inside of the car.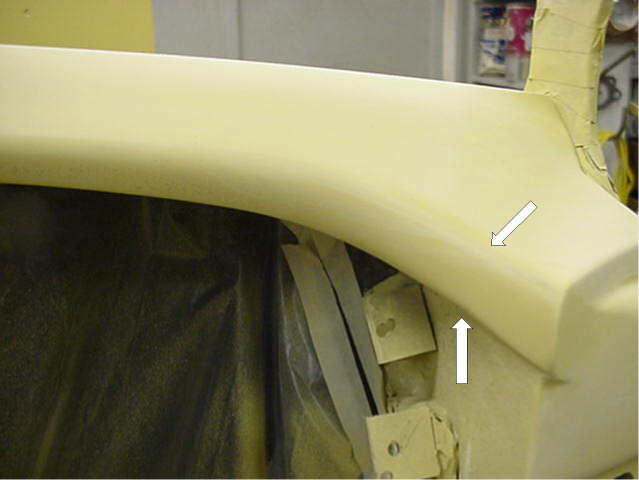 PICTURE SHOWS HOW I MOLDED A GENTLE ROUND CURVE ON THE EDGE OF THE BODY RIGHT OVER THE DASH BOARD. IT HAD AN UNFINISHED LOOK ABOUT IT BEFORE. I USED WOOD AS A MOLD AND USED A FIBERGLASS REINFORCED BODY FILLER. WOOD IS REMOVED AND SHAPING WAS DONE WITH SANDPAPER. YOU GET TO FEEL LIKE A SCULPTOR WORKING WITH THESE MATERIALS.
Fuel sending unit adapter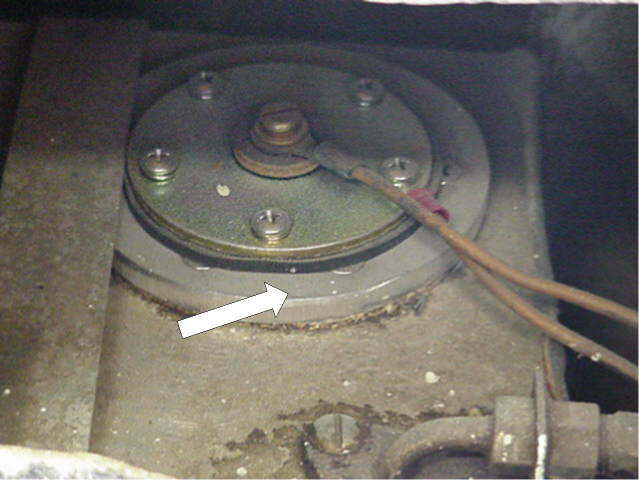 I NEEDED NEW GAGES FOR CAR 144 AND PURCHASED A SET OF STEWART WARNER. IT'S NICE TO GET A SPEEDOMETER THAT GOES UP TO 120 MILES HOUR AS I DID HEAR THAT THE INTERNATIONAL 4 CYCLINDER IS VERY POWERFUL.
THE FUEL GAGE SENDER UNIT CAME WITH THE SET. I NEEDED TO MAKE AN ADAPTER TO INSTALL IT SINCE THE MOUNTING FLANGES WERE DIFFERENT. THE PICTURE EXPLAINS IT VERY WELL.
Blue coat primer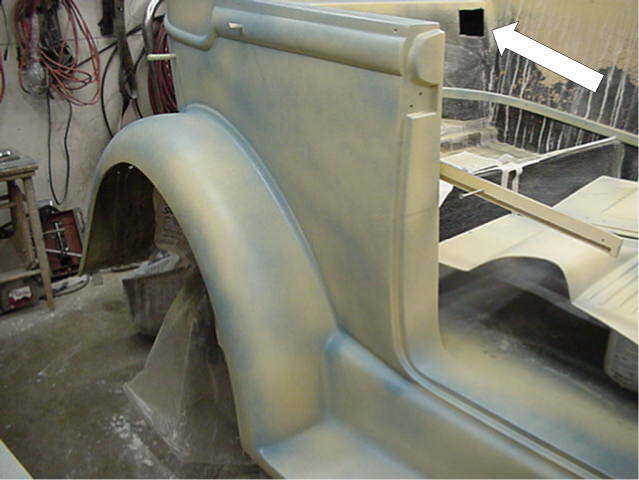 SHOWS A LITTLE BLUE MIST COAT WHICH IS USED FOR A GUIDE FOR WET SANDING. WHEN YOU WET SAND THAT OFF YOU'VE GOT THE SURFACE FLAT AND SMOOTH.
ALSO NOTE THE FUEL GAUGE HOLE I CUT.
Top frame modified at car front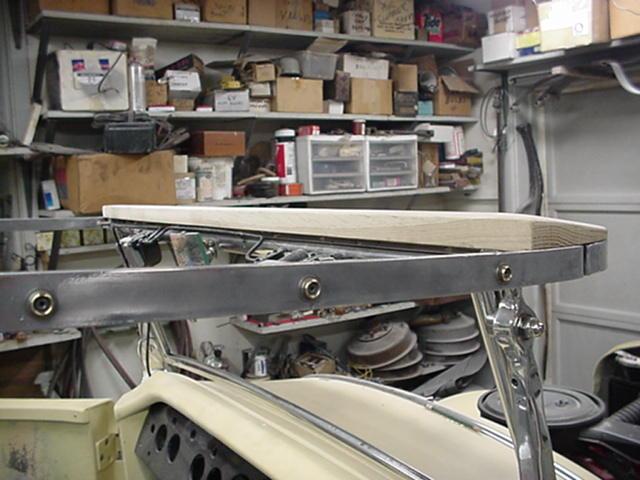 A hand-build oak piece for top frame above the windshield to help with draft control and to add a more gentle rounded edge to the top in front.
Door sill plate made from oak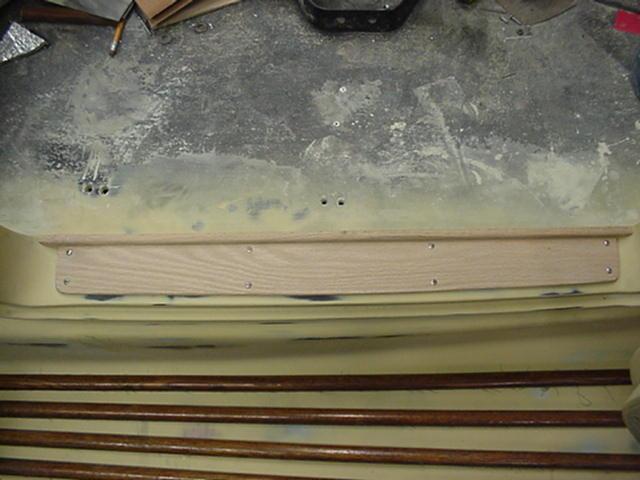 A threshold plate out of a piece of oak I have been saving for the last 3 or 4 years or more. I should say a "second hand" piece of oak because it wasn't new ... recycled.
Note -View: Looking down -- running board strips can be seen along the bottom of the picture.
Homemade radiator overflow tube / relocated filler tube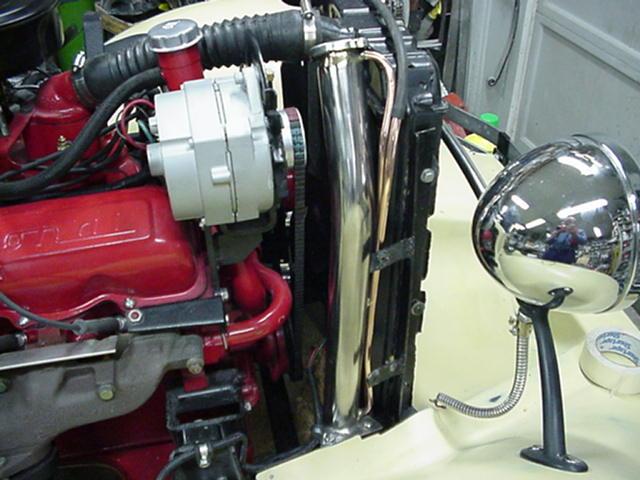 Pressurized cooling systems today have an overflow bottle. I set out to put one on car 144 and looked at every bottle in every car in the junk yard and nothing looked like I could adapt it to under the hood. In the street rod magazines they advertise stainless steel ones for between $47.00 to over $50.00. So I went into the inventory of my own collection of junk and found I had some stainless steel swimming pool railings and some copper tubing and the neck and cap from an old radiator... and wu laa.... an overflow bottle is now installed.
Notice how the bend in the railing kind of fits the contour of the grill shell.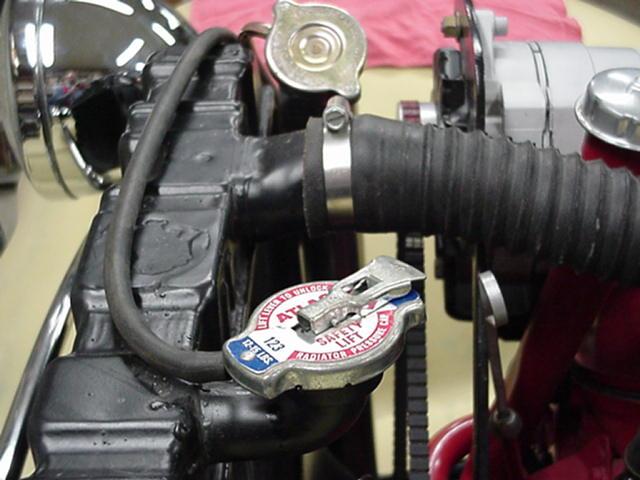 Radiator filler was relocated. The neck came off some Japanese car that the radiator shop happen to have.
I moved it because it was under the grill shell and very awkward to fill it from there.
Brace to lift and tighten the top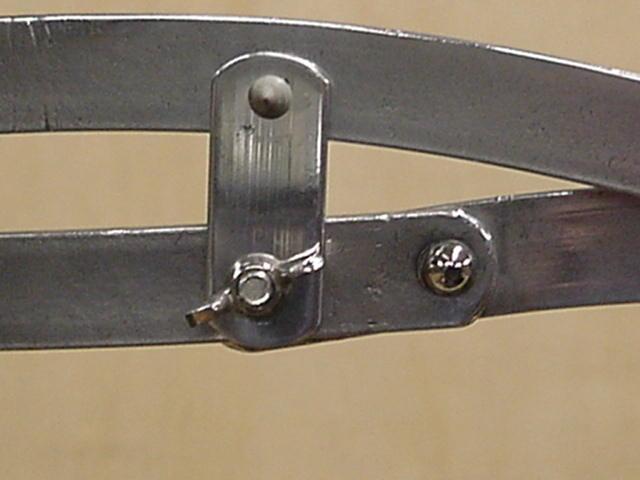 . A little device to stop the rattles in the top mechanism. Some of the pictures Don took of the top had a wire tie wrapped around the parts that rattle. I noticed this on one of the Glassics I have seen in person, so I made these little devices. Tried it out today. It's not 100 percent but we will see what its like when we get the top.
Note from the Annexmaster, 4/2008: My 1978 had a droopy top and I made C - shaped loops out of heavy rod
and placed them over the side brackets. Pushing up on the top moved the pieces closer together and
the clamp could be slid to the left, in this case, using tension to keep the pieces closer together.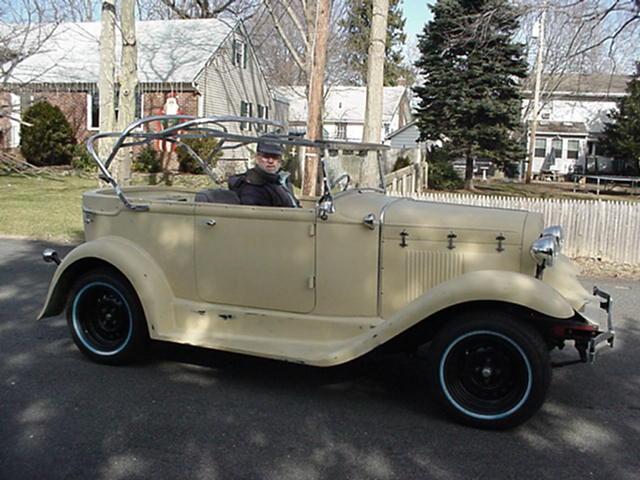 Just when we were ready to praise Fred for his infinite patience, we see that he IS human after all. He temporarily slapped his parts together for a little mid-winter test run.
More coming.

Click here to go to Page 3 of this restoration