Stainless Grill Shell Custom Made -- you can buy one also!
November 2017
Tony, Phaeton # 1452, in Northern California, is well under way to having a new, custom made shell for his Phaeton. While not the easiest project, or the cheapest, it could well end up as the ideal solution to a permanent fix for the original plastic shells that have been unable to withstand the long life they have served. Tony (the owner in the next item below) abandoned the chrome plating option in favor of Stainless Steel, and has had custom rolling dies made by a fabricator. He also has bought a sheet of stainless for the fabricator - one with enough material to cast THREE grill shells.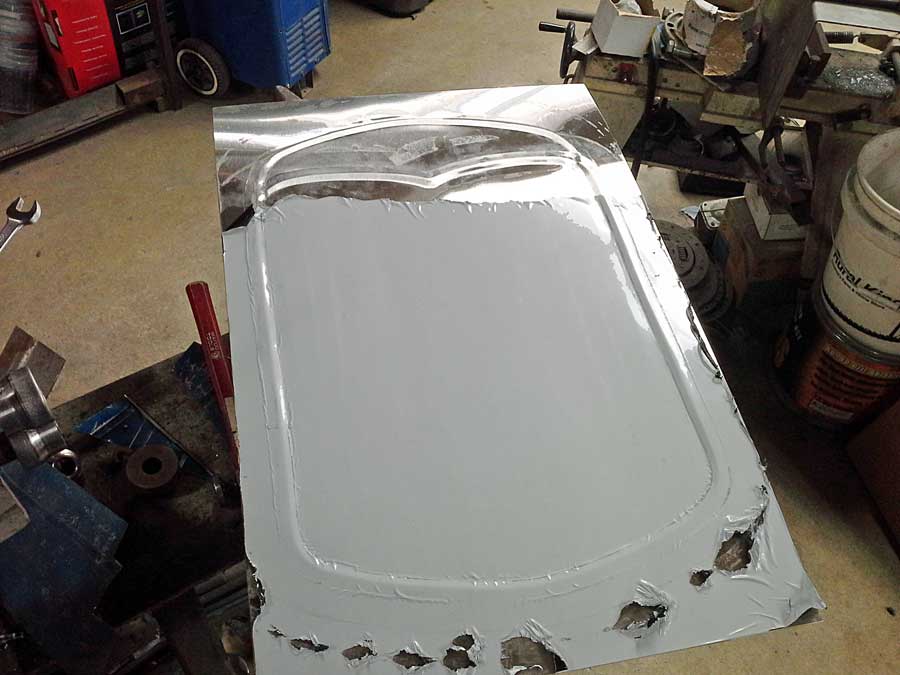 progress on the forming of part of the stainless grill shell - click the picture for larger view.
This shell (as I understand it) will have two parts that will be welded together and smoothed and buffed to look like one piece.
Tony is willing to share this project at its cost (in the area of $1200 per shell) which not only is non-profit, but considers that the hard work
has already been done in fabricating the rollers to get the steel bent into the specific shapes needed.

The best economy will come in batches of 3, since the stainless sheet metal has to be bought by the full sheet.
If you want to discuss Tony's shell, or are considering buying one from his fabricator with him
you can email him at tonys661001@yahoo.com
***************************
2017 - A Replicar owner has commissioned a special-made shell, made of steel and then chrome plated. It sounded expensive, and he had not yet (Sept, 2017) gotten a price for the project. That got me thinking again about the 1931 Ford Model A stainless steel grill shell - and the notion of cutting it down shorter, and possibly re-shaping the top curve to match the Glassic hood. When I looked for one to buy, I got a surprise. One was advertised as 30-31, but it looked a little different than I expected. A search of the web revealed this answer to the appearance question:
2017 -- The owner of car 675, having heard of the discussion about shells, presented info on his solution to the problem. He had left his original shell outside, and it vanished, so he borrowed one from another owner, made a mold, and fabricated his own FIBERGLASS shell. While not "chrome-like" in finish, it is much stronger than the original. Here are pictures of the car and the shell separately. As of 10/2017, Tom, who built this shell (and kept the mold) is willing to make more shells - in the area of $200 plus boxing and shipping costs.
This shell should fit any Ford Based Glassics - what we call Generation 2 cars - but I am not sure about others. You can contact Tom at tomrogan@gmail.com if you want to discuss this radiator shell solution with him.
Radiator Shell...
1930 Smooth Upper and Lower Face
1931 Recessed Upper and Lower Face (Painted recess)
Remembering that just because it is on the web, does not mean that it is true, I looked at some pictures of "real" 1930 and 31 cars. The article quoted here said that they were interchangeable - meaning, the same size. The pictures below are Left: the ad I saw for 30-31 - probably a 1930, and right: a 1931. I also had understood that only the 1931 shell was made of stainless steel, but now suspect that 1930's were also stainless. Pictures of real1930s do not appear smooth on the bottom, but the tops are clearly different in appearance. In the various pictures that I saw, the bottoms are either exactly the same, or there is a tiny rolled bead on the top of the bottom face (to act as a small border for the sometimes painted insert. See the right picture below.
I had thought that I had seen reproduction shells for sale from Model A and hot rod parts shops, and had also thought that one could buy one shorter than normal and/or without the radiator cap hole in the top. In 2017 I have not immediately found those products on-line. The chances of a store-bought shorter shell EXACTLY fitting our needs seems remote.
***********************************
CUT DOWN STAINLESS SHELL
10/2017 -- Stacey, car 341 (1st Generation Glassic, with the International drive train) reminded me of her project, completed some time ago. See pictures of her car and how the shell looks HERE
This is what she said about her swap: (You) might want to refresh your memory and take a look at 341. It's a 1930 (Model A Ford) shell shortened by 2 (and I think) 1/4 inches. -- The measurement is from memory, you should verify the AMOUNT of cut-down needed (It would have been nice if the shell was) a bit wider, but it does a respectable job .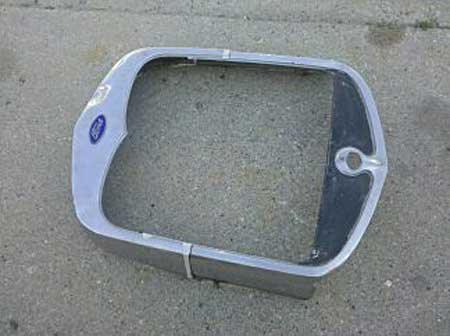 Car 341's cut down stainless steel shell