-- Notice that the front curtain picture below has 8 snaps along the bottom of it, not 5 so it is not for the 1973 vintage cars and probably is from a Replicar.

Outside view with the front at the right. The flap on the far left is sewn on facing back and folds over and around to cover the top frame.
The measurements below are from the CURTAIN, since I don't have the car.
Measuring the bottom snaps that are all in a straight row. Starting at the left of the rear window. there are 5 snaps, each very close to 4" apart, for a total of 16 inches between the first and last snap.
The front curtain has 8 snaps, MORE OR LESS 4 inches apart. Starting at the left (above picture), I measured the following:
4",4", 4", 3 3/4", 4 1/4",4 1/4", 4" and when I measured from the first to last snaps, I got 28 1/4"

Inside view of the pieces at top. The front of the car is now on the left.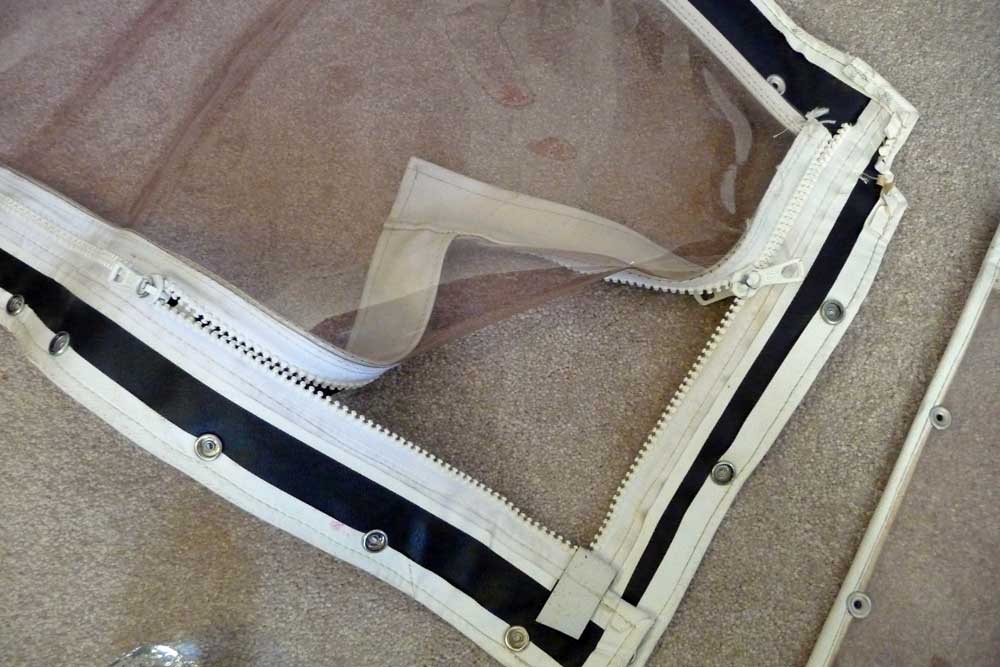 There are about 15 additional pictures of the detail of these side curtains like this one of the zippers partly open - the added shots are close-ups of parts of the top two images.
Rather than post all of them here, the few people that want them all can email me at GlassicAnnex@aol.com and I can send you a set.