GlassicAnnex
Reunion to be held in Florida, March 15, 2016
UPDATE regarding housing for the Reunion - posted 3/8/16
"Anyone desiring Best Western Lodging will need to make reservations soon as March is a high occupancy season. A rate of $86.39 per night has been obtained by Ken Bragg.
When making a reservation use the code MNGR to obtain the reduced rate.
Call 352-460-0118 for reservations. Best Western 1321 N. 14th Street Leesburg Florida 34748"

Information on the 2016 Glassic Reunion is being compiled here. As of Feb. 27th, Joel plans to attend. who is Joel?

Wayne, car 141 is spearheading this event and shared the following on Feb. 26th
Leesburg, FL is all set for the Florida Glassic Gathering.
Based upon a suggestion by Janice, #1119 roadster, and prior knowledge of Ken, #1089 phaeton, it has been decided to use the Gator Harley Davidson Facility in Leesburg, as our fair weather location.
He has worked, directly, with the Management there. They are very anxious to have us from 10am to 4pm on March15. There will be no charge to us for the Pavilion, picnic tables, and reserved parking for 20 vehicles. Inside rest rooms will be available for the ladies and port a john near the pavilion for men. Participants might like to bring a lawn chair for more relaxed seating, Pavilion has several ceiling fans for comfort.
No restaurant on site but arrangements can be made for a food truck vendor to be present if desired. A Jiffy Convenience Store is next to Gator Harley. Snacks of Wisconsin cheeses/wafers/fresh strawberries with orange blossom honey to make Strawberries Willkomm will complement the home-made walnut/chocolate chip and walnut cluster cookies, all of which will be provided.

Ken suggests the Best Western Motel for Joel and any others desiring lodging. ( Joel and his wife, already have a standing offer to use my guest room overnight, as well) The motel is fairly new and only four miles from Gator Harley on the same road. Directions and addresses as per the attached info sheet. Ken will arrange for best rates for our guests.
Ken's number is 352-255-7489

Ken has, also, arranged for a closed building back up, if weather is inclement. Directions to it will be posted and available from the Gator Harley folks (Eight vehicles can be driven inside
as it is a large steel building.

A lot of people are starting to realize this is going to be more than a special event; it is going to be unique, with more Glassic/Replicars in one place, since since they left the factory due Joel's presence.
Call/email me (Wayne) with questions/comments/changes in plans at (352) 795-9980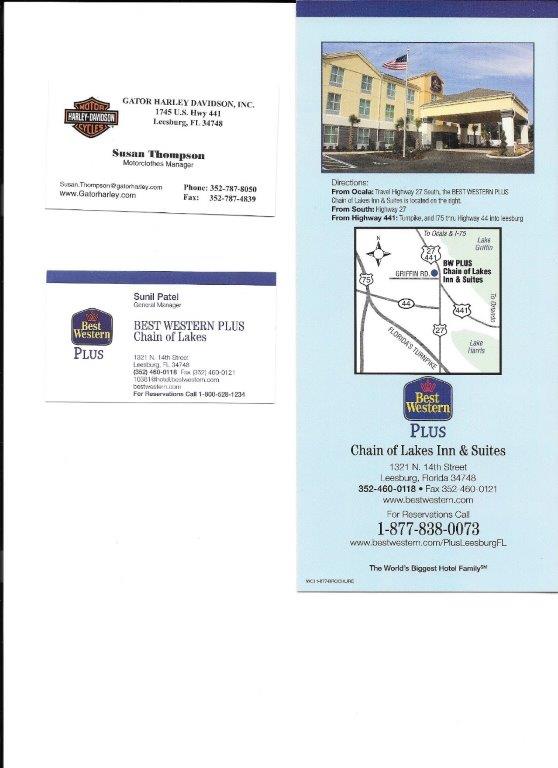 This info is the address of the "Rainy Day alternative"

Address info. for back up location

It is three miles from Gator Harley

Recycler's Cross Dock

Bo Wroten 411 North 14 Street #250


(407) 620-0274 Leesburg, FL 34748


Ken Bragg supplied this info.