The rain had gotten us off to a bad start. When Dave's car (# 1279) jumped off the dolly, we concluded that it thought that it was going back to Texas where Dave found it, and was trying to run away.
Two different devices for lifting a Glassic

Preferred method

Lifting by means of a jack

Not preferred method

Lifting by means of a jack-ass.
(Don, the Annexmaster)

Ruptured bicep tendon, surgery, cast, about 8 weeks of limited use, not to mention the expense and insurance hassles..
We foolishly thought that we could LIFT the car back on the car dolly.
Later, after Don (The Annexmaster) got back from the emergency room, we sat in a local pub and discussed how you lift with your legs, not your arm. Dave's wife Linda, Dave, Louis (car # 1121) and David, (car # 1112) listen as Don (in the sling) tries to explain how NOT to lift a car.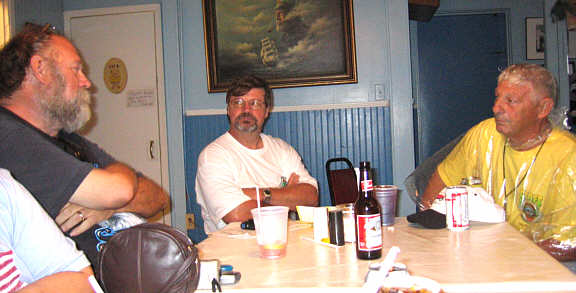 Dave (L) and Louis (center) chat with Frank (car # 1085). Frank was a marshal at the cruise.
One of the few cruise shots (it was just too wet) . The Grand Casino was one of a LOT of special parking areas for show cars. In good weather, one visits them all. Unknown person at right prays to the rain gods.
Saturday morning we were to meet at one of the show lots where Frank was going to hold some spaces so we could park together. This is JJ's car (# 1106) -- JJ in white hat -- more on him and his highly upgraded car will be added to the website later.
JJ, in black plastic bag attire, Frank in yellow, Don in sling, and Louis gripe about the rain.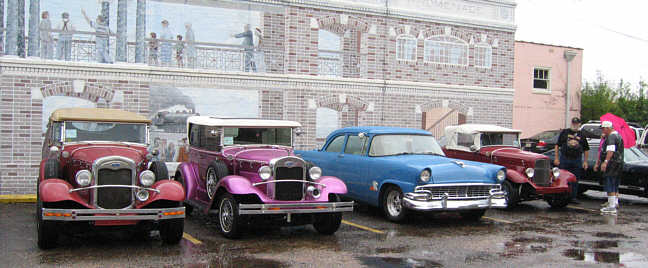 Car 1279, 1254, JJ's friend's Ford and car 1106 -- and drizzle.
Frank's car(# 1085) was parked nearby.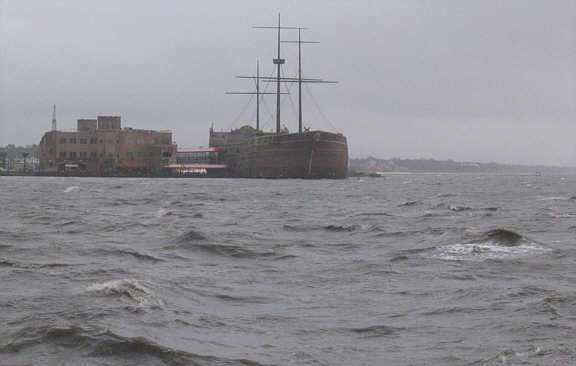 The Treasure Bay Casino is right next door to the President Casino and resort where we hope to gather next year. The Gulf water is usually smooth as glass.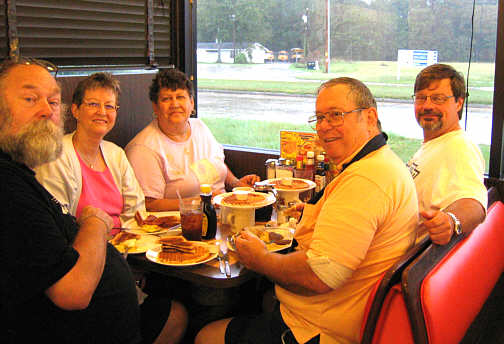 The rain "forced" us into the Waffle house. Dave (L), Don's wife, Mickey (thanks for taking the pics) Dave's wife, Linda, Louis (goatee) and Don. Look at all that breakfast at the table! The waitress took this picture.
Even after staying over an extra day, the trip home was rain off and on most of the way.