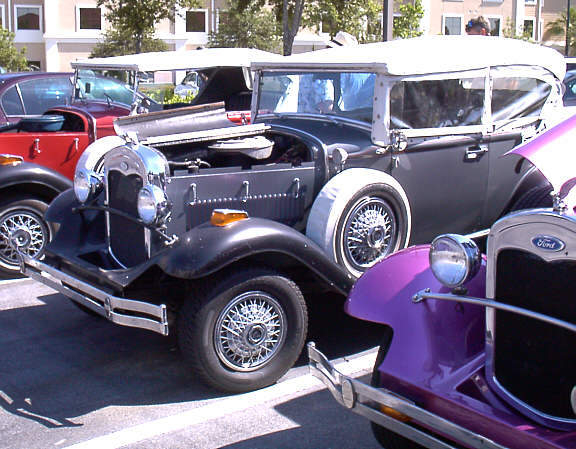 Car 1290, a 1978, at a Glassic reunion in 2003.
In 2007-2008 Mark decided to totally update his car.
Below are his changes and improvements.
Fast forward to June, 2013 -- Here is a video clip and brief update from Mark. The homemade video was filmed sideways and dark and blurry, but we are hoping for a better video when the engine is broken in and blasted!
After a year and a half of sleeping this is the first run sitting on a milk crate 390 HP without the 100 hp shot of nitrous hooked up yet. rpm was limited to 3500 for the break in. I can't wait till I can run it at full potential and 6500 rpm.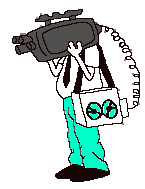 click and WAIT to see the movie clip
Some "before" reference shots in early 2008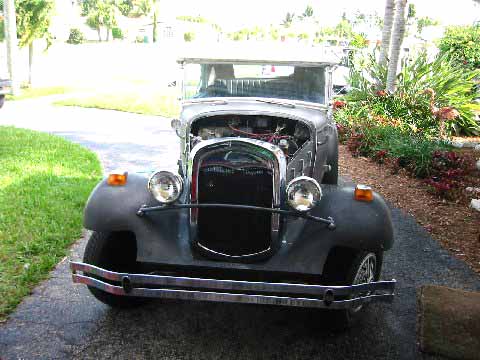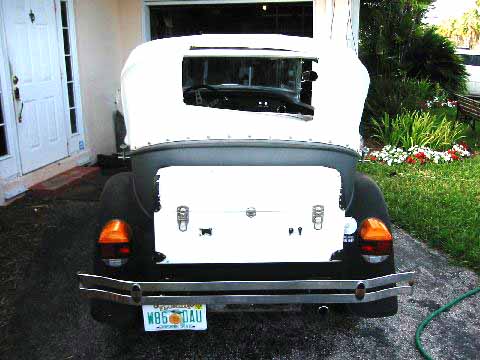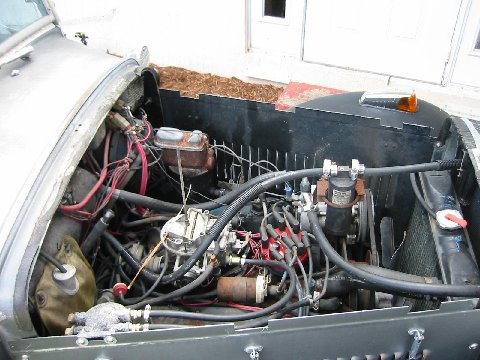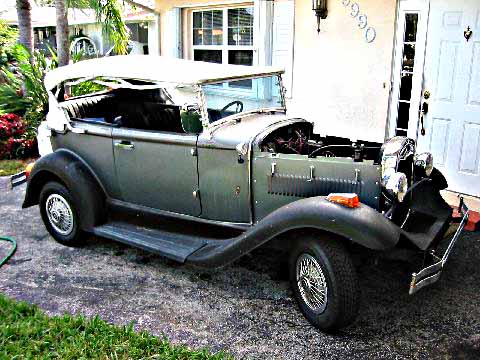 In Jan. 2008 Mark says:
I have removed the tire racks and started removing some of the wiring.

I'm going to do my best to have it done and have it at the Show

(Glassic Reunion 8-8-8)

in August. It wont look anything like it does now and it will have about 4 Times the horsepower. He He He! I'm taking all the old parts off very carefully so they can go to other cars.

The parts will all be FREE for others owners on the Glassic Annex all I ask is they make a donation to the Glassic Annex to help you with all your costs. And everything on it works including ICE cold AC. Most of the parts won't go back on this car so I will have lots to give away. The new car will be all Hi Performance.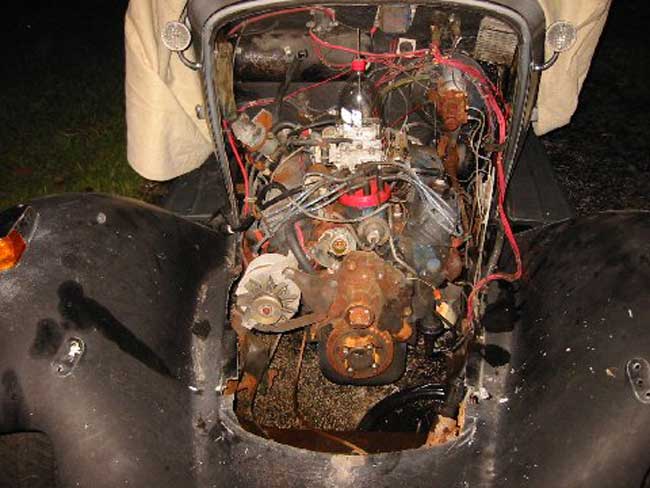 The way is cleared to remove the old engine. Feb. 2008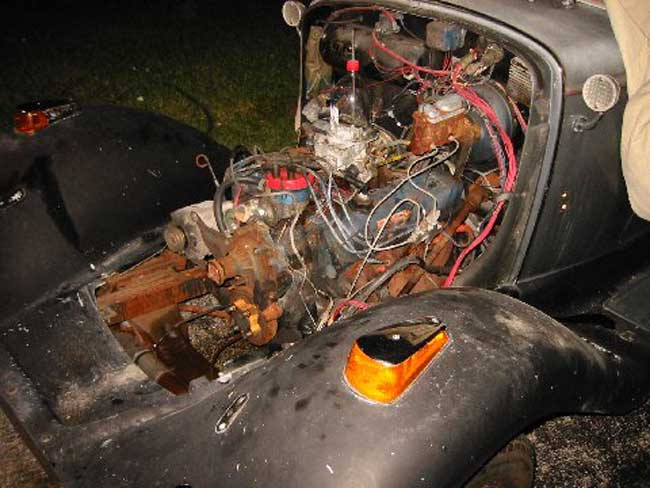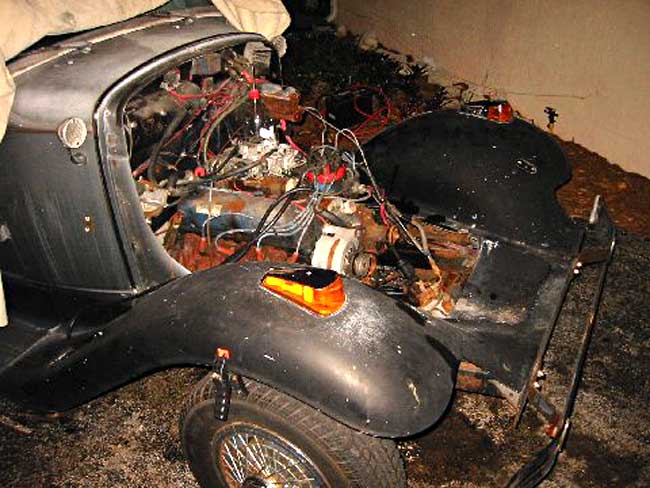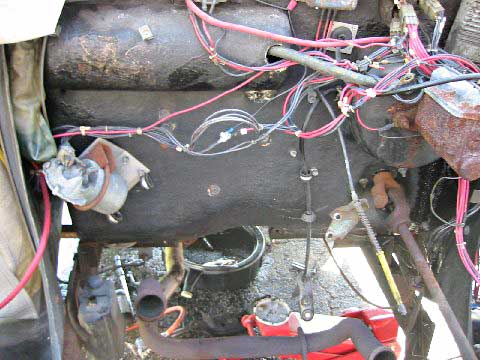 Empty engine bay from the front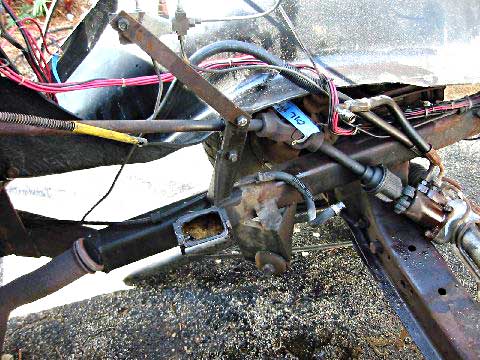 Drivers side motor mount, steering shaft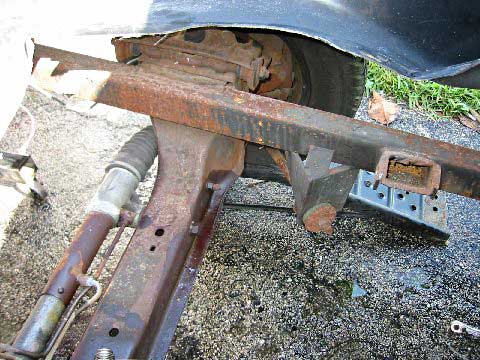 Passenger side, front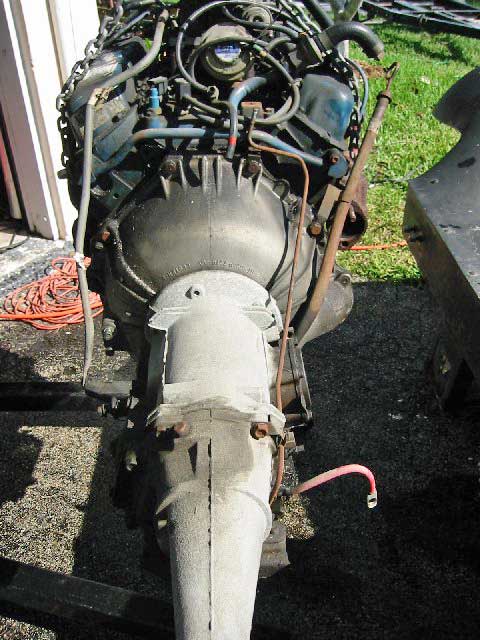 Engine, transmission from the rear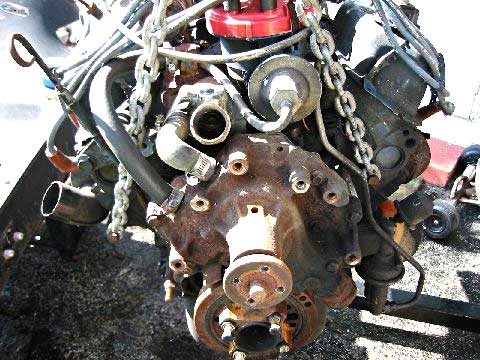 Front of engine, water pump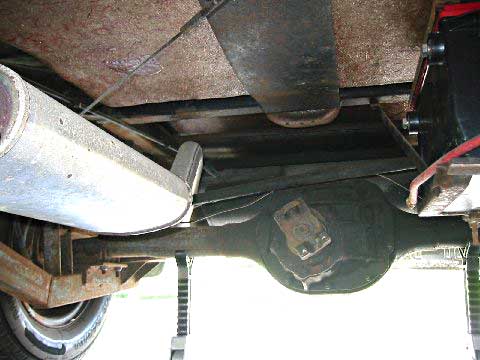 Underneath view toward the rear end. Drive shaft removed.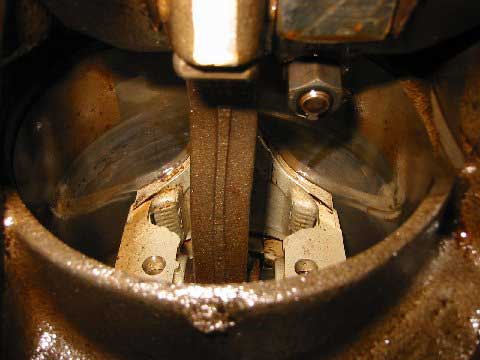 View of a piston from underneath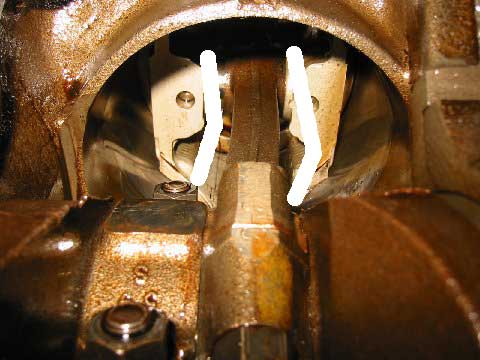 The white lines are to highlight the rod that is SUPPOSED to be straight.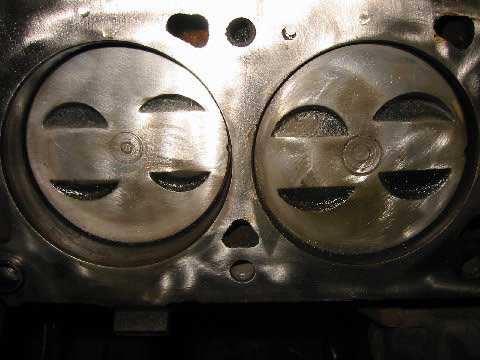 Two pistons - not the same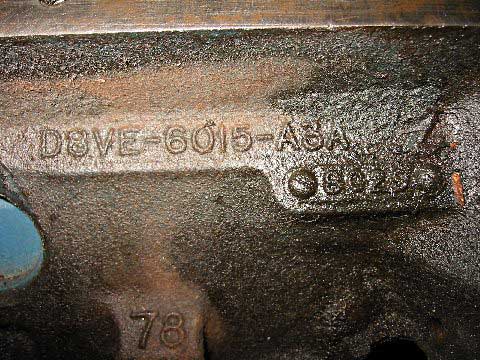 Serial number on the engine.
other info on engine numbers
From Mark 2/17/08:
Well, the motor cam apart today and it ran excellent when I took it out. This car has 16 k miles on it and I never knew I had a problem. Look at the pictures #3 cylinder has a bent rod.
Because I know the history of this car since day one when it was picked up new from the factory in West Palm I was a bit shocked. I also noticed 2 different piston castings. Take a look at the Valve cut outs in the piston head. The one on the piston to the left is much smaller than the one on the right. The piston also weighs 9 grams more than the others.
So if anyone has a bad vibration and can't figure it out this may be your problem. This motor has never been apart before. So I ran the casting numbers on the block and the history is.
1978 Lincoln 302 2V SMOG motor
The block and crank are good and strong but the heads are the worst Ford ever made. So they aren't going back on. And those miss matched pistons have to go also.
2/18/08 -- I asked Mark to tell more aobut the heads being "the worst Ford ever made." - here is his reply:
This series head has a very BIG chamber 69cc and very small valves 1.78 intake and 1.45 exhaust with a small exhaust port. This makes the motor low compression and hard to breath. Imagine if you had to run around the block and only breath through a straw? It wouldn't work well. These heads will work fine for the way the motor in your car is built.
The new motor I'm building will need to breath much more the new aluminum heads have 58cc chambers 2.02 intake and 1.76 exhaust. With the coated forged pistons and the COMP cam this one will breath.
As far as the bent rod I have no clue when or how it happened????? The piston is another story I found that ford would sell motors to several companies for use in tractors and farm equipment. The motors were not first quality production. They were known as seconds. They did the job fine but were known to have some left over parts or out of range casting numbers. So I guess this was common. These motors were built by Ford and Lincoln but were sold with a Ford part number.
I do have a great new product that everyone running a 302 with the factory ignition will love. I just bought a new distributor that is based on the Chevy HEI ignition. With this swap you get rid of the Ford coil, ignition box and lots of wires. The new unit has only 1 wire that connects to the 12v positive key on power. That's it -- everything is built in the distributor. Now get this they start at $49.95 and have 50,000 Volts. Mine was $98.50 because I'm putting out 100,000 Volts.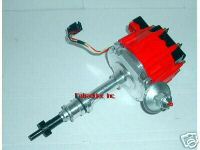 Note from the Annexmaster: This report is being posted as Mark does his work. If you are thinking of using any of these tips, be aware that the transformation is not yet complete and his changes have not been road-tested.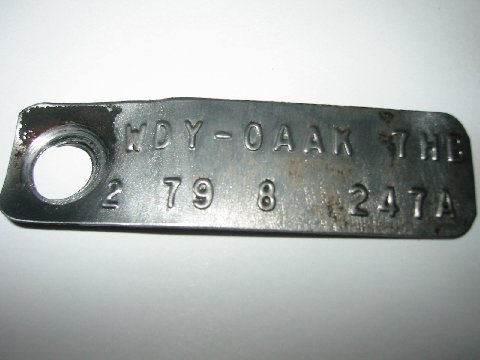 Ok I'm stumped this is the tag from the differential. I have looked in all my Ford book and none have this code??? The best I can figure is its a 8" Ford unit with 2.79 gear ratio non locking with a 28 tooth spline.
I found every code for WDY- M through Z but there was no code for WDY-O And all the Mustang differential had a 3.00 gear ratio or larger. What we have is something even the guys on the Ford chat rooms haven't even seen.
Some shots of the inside with the seats and carpet removed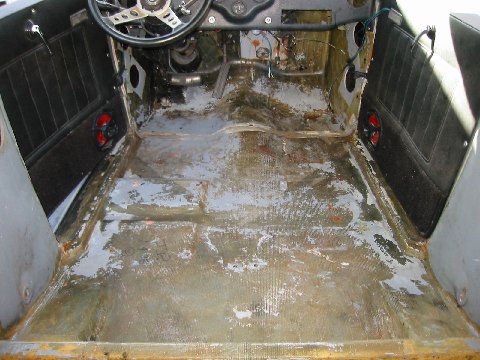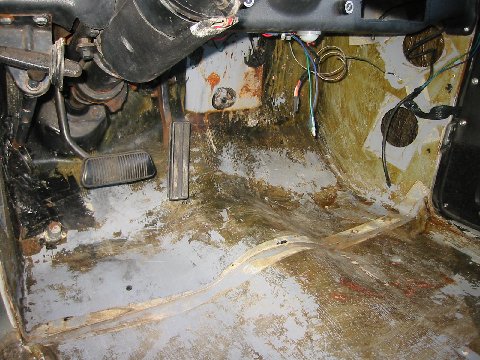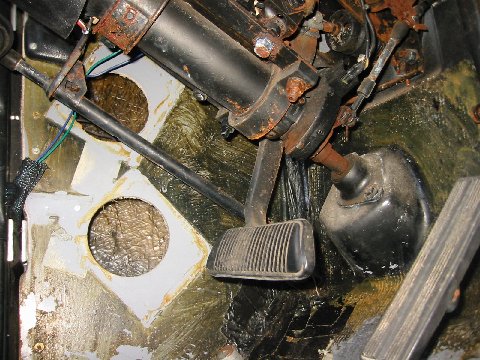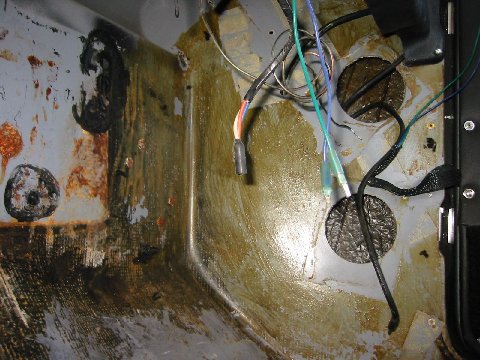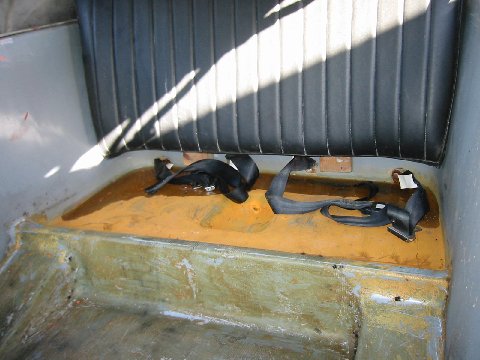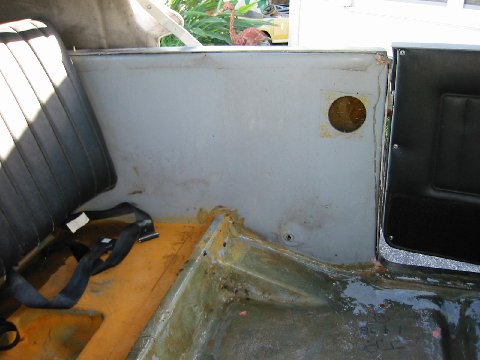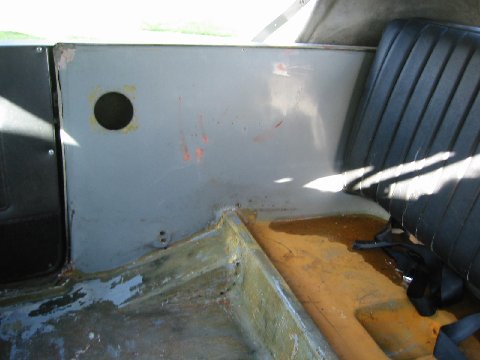 Universal joint or u-joint failure
This may help anyone who is having U-Joint trouble. I'm on my second set of U-Joints is 10-K miles. I never noticed until now my differential is 1 and 9/16" off center to the left side. Looking from the front of the car down the drive train in the first picture you can see the alignment is way off. This is what caused the early failure of the U-Joints.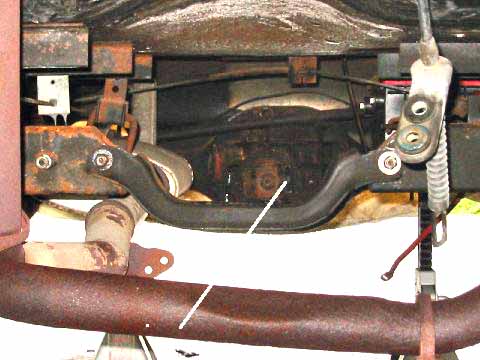 Its not easy to see in this picture, but
the white line represents where the rear end center should be - it is off to the left,
(looking from the front) making the right wheel stick out more.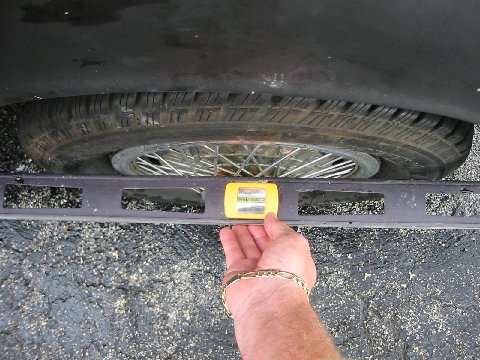 above is the left wheel.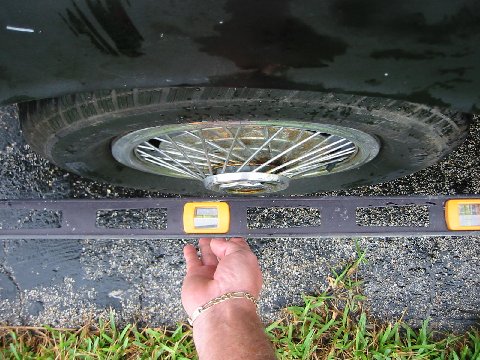 above, the right wheel sticks out further. A visual inspection, and a ruler will
help you see if YOURS is off center.
The differential wasn't as easy as just moving it over. This has turned out to be very difficult. Everything has to line up so it will track straight.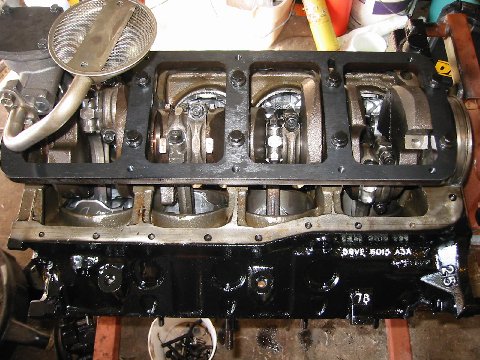 Main bearing girdle adds about 30% more to the main bearing strength.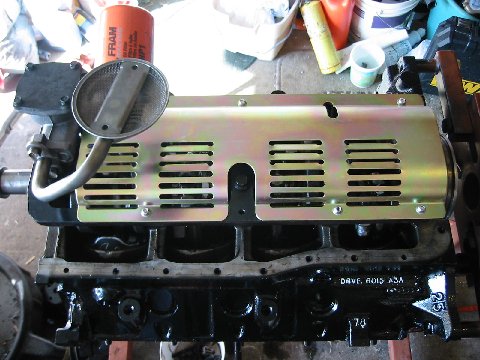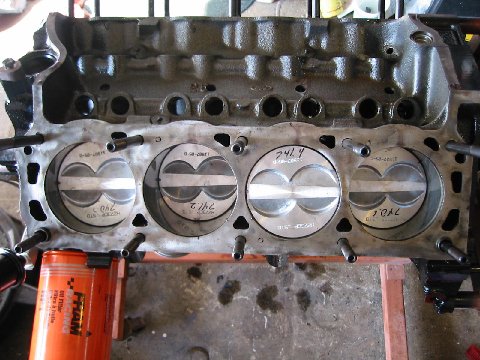 Forged pistons all balanced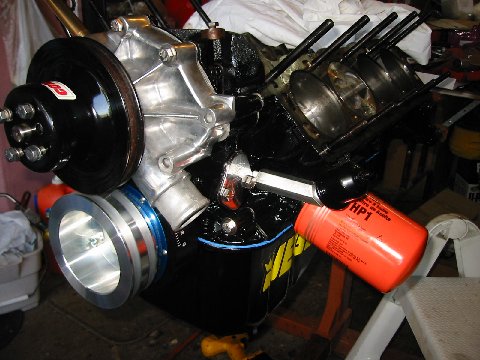 SFI approved balancer and High flow water pump. The high Volume oil pump requires the new oil pan. The aluminum head will be here next week so that's all I can do this weekend.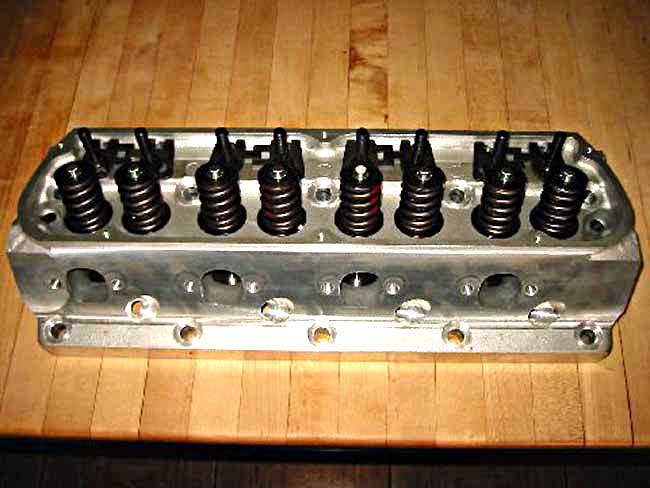 New aluminum heads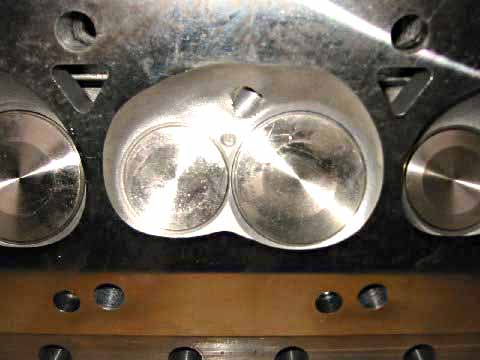 2.02 1.64 Stainless valves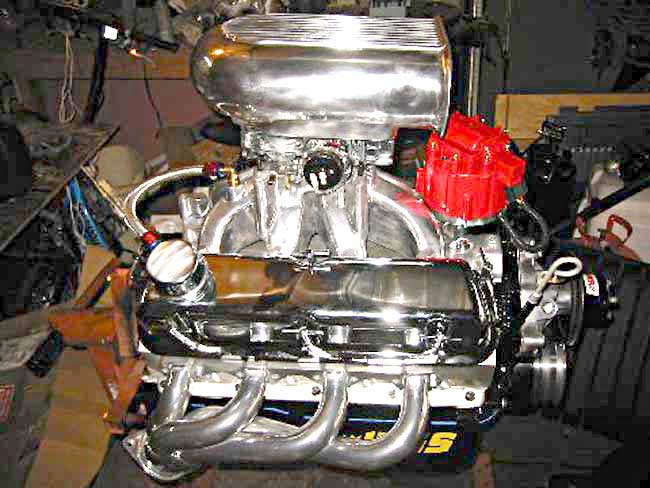 This should be one quick little Phaeton when I'm done. Next week we start the body!!!!

Annexmaster's comment:

This restoration continued on Page 2.